Board of Directors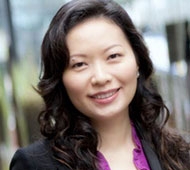 Ms. Kelly Chan Yuen Sau
Immediate Past Chairman, Director
Ms. Chan joined Rehabaid Society as Board member in 2002 and has been acting as Honorary Treasurer for many years. She received her bachelor degree in accountancy in Hong Kong, and has more than twelve years experience in the accounting and financial services industry. Ms. Chan is an Associate Member of the Hong Kong Society of Accountants and a Fellow Member of the Association of Chartered Certified Accountants; she currently serves as the financial controller of a multinational beverage company. Ms. Chan actively participates in community services, and has been a committee member of the Association of Chartered Certified Accountants since 2000.
Message from the Immediate Past Chairman
Since its establishment in 1979 as a small resource centre for assistive technology, Rehabaid Society has undergone three decades of steadfast growth into a sizable multi-unit organization comprising the main Rehabaid Centre, the Rotary Rehabaid Centre for Children, Mobile Rehabaid Centre and the Environmental Advisory Service, providing a comprehensive spectrum of services to people with special needs, their careers, the public as well as health care and social welfare providers. We endeavor to facilitate establishment of an inclusive environment and successful community integration of people with special needs, in the hope that they can move ahead and live a confident and beautiful life.
Behind the success of Rehabaid's development is not only the dedication and passion to optimizing the quality of life of people with special needs, but also the innovative ideas in the fields of rehabilitation, wellness enhancement and assistive technology. We have sought to lead the way in moving from the traditional model of health care services "based on care for the sick" to the more holistic concept of wellbeing, which embraces physical, psychological as well as social aspects of health. We have been a tireless facilitator to people with special needs, assisting them to make the best use of their residual abilities to overcome limitations, thereby taking charge of their own health, acquiring optimal independence, being more initiative and aggressive, and merge into the community and leading a meaningful life and living with dignity
In keeping with the spirit to give, and to share empowering knowledge for health promotion and community reintegration of people with special needs, we have launched Rehabaid's Multilingual Website on Healthy Living in 2004 in English, traditional Chinese and simplified Chinese, which contains a wealth of information on rehabilitation, wellness enhancement and healthy lifestyles. We also organize workshops and publish booklets and videos regularly to educate the public as well as to train service providers, in order to support the service delivery of other health care and social welfare organizations.
We hope that our website, including the Environmental Advisory Service section dedicated to accessibility universal design, will serve as an interactive platform for the international promotion and exchange of health and rehabilitation ideas and experience, and that it will draw the World closer together, reaching even those who have otherwise little access to rehabilitation news, so that they can benefit from these information. We welcome any input of related information and/or proposals for collaboration from you via the web.
Let us join hands to build an inclusive environment and a better tomorrow!
◀ back
▲ Return to top