Things to Know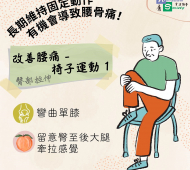 Improve low back pain - chair exercise 1
To improve low back pain, a stool can help you!
Avoid maintaining fixed postures for long periods of time, you can work on waist stretching exercises with any chair readily available.
Let's give it a try!
Action 1 Hip Stretch:
Bend one knee and pay attention to the stretching feeling from the hip to the back thigh.
Stay for 10-15 seconds and repeat 5 times
◀ back
▲ Return to top