Patrons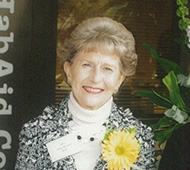 Mrs. Anne Marden
Permanent Patron & Founder
Thirty five years ago, Hong Kong's first Resource Centre for people with disabilities was opened. It consisted with one room in the Headquarters of the Society for Rehabilitation, and was staffed by one Occupational Therapist. I am immensely gratified to see how far Rehabaid Society has come since then.
When we started, there was widespread misunderstanding of and lack of interest in the whole area of rehabilitation. Our central aim was to bring people with disabilities into society, and we started with a resource centre on technical aids and their appropriate use, so as to enhance the quality of life and the capacity for independent living of people with special needs. We also began to educate rehabilitation professionals in prescribing technical aids, and through various workshops, publications and exhibitions we began to promote a more informed attitude towards rehabilitation.
The Rehabaid Society developed from there, and our success is demonstrated by the many similar resource centres that have been set up in neighbouring countries based on our ideas.
I would like to say how very proud I am of all those who have worked so devotedly over the years to achieve this dream. I offer my sincere congratulations to the staff, past and present, who have helped to make Rehabaid Society a living reality on this thirty-fifth anniversary.
---
Mrs. Marden was born in Shanghai in 1926 and received her education in England. She came to Hong Kong in 1947 and went on to become the Director of the Hong Kong Red Cross, a position she held from 1960 to 1965. Mrs. Marden joined the Executive Committee of The Hong Kong Society for Rehabilitation in 1965 and later became the first Chairperson of Rehabaid, the forerunner of the Rehabaid Society. She has been a Justice of the Peace since 1973, received the Caltex Community Service Award in 1990, and was awarded an MBE in 1991. She is the President of the Playright Play Association; Vice Chairperson of TREATS; Patron of the Federation of Handicapped Youth, the AIDS Concern, the Kely Support Group, the Comfort Care Concern Group and the Springboard; and an Advisory Committee Member of the Hong Kong Red Cross.
◀ back
▲ Return to top