Things to Know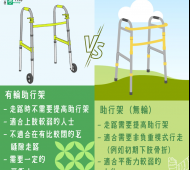 Choosing a walking frame
There are 2 kinds of walking frame, with or without wheels.
When using it a walking frame with wheels, there is no need to raise the walking frame, this is convenient for people with weak physical strength.
A walking frame without wheels needs to be lifted when walking. Although it is laborious, it is more stable.
If you have any questions about choosing a walking frame, please contact your therapist.
◀ back
▲ Return to top