Things to Know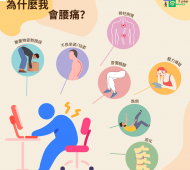 Why do I have back pain?
Why do I have back pain?
Lumbar pain could be a disease cause by daily habits!
Wrong posture when carrying heavy objects,
Poor sitting or standing posture,
bending the body frequently,
Habitual to cross one's feet…
Improve bad habits immediately!
Make an appointment with us to help you make assessment,
Physical therapy can provide pain relief services, posture correction and exercise training.
Keep back pain away from you!
◀ back
▲ Return to top