Accessible Living
Accessible Living is not about treating people with disabilities the same, but treating them differently so they are treated the same. Hong Kong has set up the Equal Opportunities Commission (EOC) in 1996 with legislation in place to prevent discrimination. This is detailed in the Disability Discrimination Ordinance.

People with Disabilities in Hong Kong

The Equal Opportunities Commission (EOC) website provides information on legislation, advising on the rights of the disabled in all aspects of education, employment and access, amongst others.

The Hong Kong Government's policy towards disabilities is to integrate people with disabilities as much as possible into the community.

The Social Welfare Department (SWD) implements the government policy on social issues and is supported by various non-government organizations.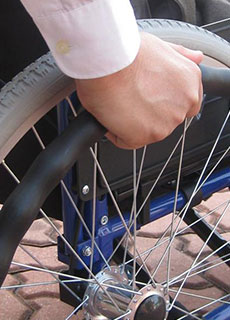 EAS and Accessible Living
Accessible Living has been linked to Accessible Design as part of the 'new perspective on Accessibility in Hong Kong'.
A barrier-free environment does not apply only to architecture. It is not only about hardware, but also about the software side of the issue. Communication and understanding are the biggest impediments to the participation of the disabled citizen in the integration of society, after mobility and ease of access.
EAS intends to look beyond just the current legislation with regard to Barrier-free design which is the minimum standard for compliance. Special needs are being addressed more and more which have an impact on the design and building fabric of Hong Kong.
All aspects of disability will be recognized in changing Hong Kong from a semi-hostile to a recognized disability-friendly World Class City. This aspect of Accessible Living will be greatly expanded in the future on this website.
▲ Return to top